Acerola
–
Malpighia emarginata
Antioxidant Superhero from Brazil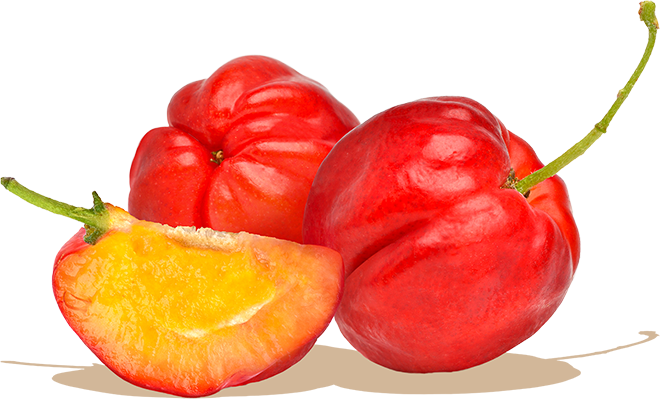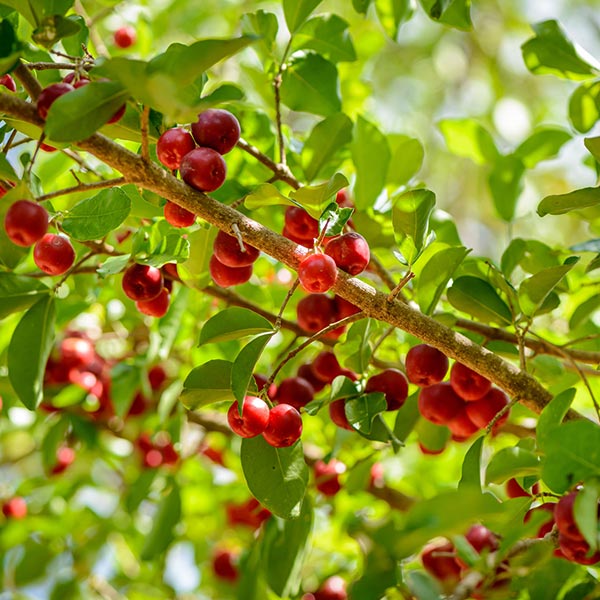 May we introduce you to the vitamin C star in our portfolio? Acerola is one of the fruits with the highest content of natural ascorbic acid, and therefore also has one of the strongest antioxidant potentials.
Our Offer:
Powder*

NFC puree

HPP puree

Juice concentrate

Flakes

IQF
* with 17%, 25%, and 32% of natural vitamin C concentration
Product also available in organic quality
Function Description
You know the effect of lemon juice when you drizzle it on apples? This prevents oxidation, i.e. the apples from turning brown. Acerola has up to 30 times the vitamin C content of lemon – can you imagine how strong its antioxidant capacity is?
Also known as the "Barbados cherry" because of its intense red colour, it not only has a commendable vitamin C content, but also contains other vitamins and secondary plant substances. For centuries, indigenous people have used acerola for its protective and healing function for the body and well-being. The consumption has been proven to support the function of our immune system.
The main area of application for our acerola powder is bakery products. It increases product quality by improving the resistance of the dough (against stretching and deformation), the crumb structure and the baking volume.
In the food and beverage industry, it is also important to prevent oxidation and preserve sensory properties. Acerola powder is used as a colour and flavour stabilizer, especially in beverages, as well as in meat and fish products. Here, addition of the acerola powder delays the spoilage, rancidity, and discolouration.
Scientific studies show that natural vitamin C from acerola is completely absorbed by the body compared to synthetic vitamin C. This means that it has a much higher level of bioavailability.
Read more about the action of Acerola on Baked Goods | Meat & Fish
Nutritional Supplements | Beverages & Food Preparations
Sensory Description
Texture: pulpy, rich in fibres
Colour: orange-red
sweet

sour

bitter

salty

umami

sharp

astringent

cooling
The acerola puree has a bright orange-red colour, tasting slightly sweet and – due to the high content of organic acids – somewhat acidic. The complex flavour profile has notes of fresh apples and dried apricots. In addition, vegetative notes of tomatoes can be detected.
Acerola puree can be combined with orange, ginger, yuzu, turmeric and calamansi in juices, smoothies, and shots. The acerola powder, on the other hand, is mostly tasteless – except for the acidity – and can therefore be used universally.
The areas of application are multiple, and we have already tried out many recipes. We would be happy to support you with our know-how in the development work.
Natural vitamin C
Market Potentials
The global trend towards more health and naturalness is creating an increased demand for "clean label" products that bring an additional functional benefit. Due to the high vitamin C content, the use of acerola powder is ideally suited for the use and labelling of EFSA health claims.
Origin and Producer
Acerola is a shrub native to Central America, which is nowadays mainly cultivated in Brazil. Our partner Duas Rodas is one of the world's leading producers of acerola powder with standardized vitamin C content.
Their modern production plant is located in the middle of the cultivation area. This has the advantage of preserving nutrients as far as possible due to short transport routes and immediate processing. Duas Rodas builds on long-term partnerships and buys the fruit from local farmers for a fair price. In addition, the company trains them on the cultivation of acerola.
Another product of our partner is Guarana; these two are a promising combination for food supplements.