Acerola
–
Malpighia emarginata
Antioxidant Superhero from Brazil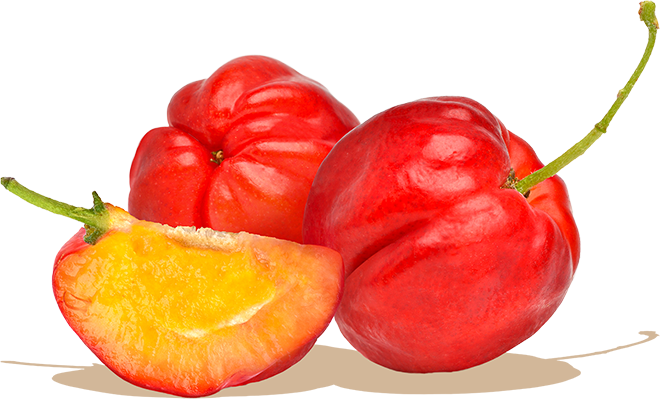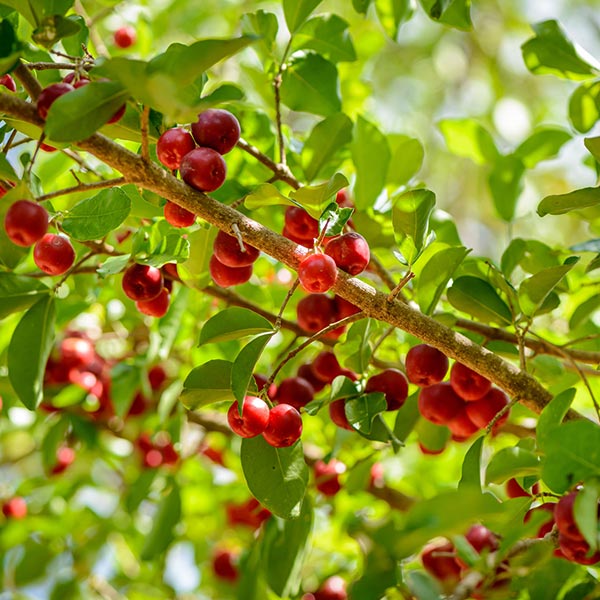 Boom! Meet the Vitamin C Star in our tropextrakt world. Acerola is one of the most powerful fruits regarding its antioxidant potential due to the high content of natural ascorbic acid.
Our Offer:
Powder*

NFC puree

HPP puree

Juice concentrate

Flakes

IQF
* with 17%, 25%, and 32% of natural vitamin C concentration
Product also available in organic quality
Function Description
Even if the so-called "Barbados Cherry" stands out for its vitamin C level, it can do much more! The fruit contains several other vitamins (Provitamin A & B's) and minerals. Indigenous peoples in particular have used acerola for centuries because of its protective and healing function for the body and well-being. Its consumption contributes to the normal function of our immune system – not only during winter times!
We all know the effect of drizzling apples with lemon juice to prevent them from turning brown. Imagine, acerola has up to 30 times the vitamin C content of these citrus fruits – how powerful their antioxidant capacity might be.
In the food and beverage industry, the powder is therefore used to prevent oxidation and acts as a color and flavor stabilizer for meat and fish, but also to protect the taste of beverages, especially those filled in PET bottles.
It is worth mentioning that scientific studies show that natural vitamin C from acerola is fully absorbed by the body compared to synthetic vitamin C and thus has a much higher bioavailability. If this is not a top-notch reason to include one of our products in your application – name another.
Get to know the action of Acerola on Baked Goods | Meat & Fish
Nutritional Supplements | Beverages & Food Preparations
Sensory Description
Texture: pulpy, rich in fibres
Colour: orange-red
sweet

sour

bitter

salty

umami

sharp

astringent

cooling
The acerola puree has a bright orange-red color, tastes slightly sweet and – due to
the high content of organic acids – unobtrusively sour. It has a complex flavor
profile of dried apricots and white currants with a hint of dark berries like
blackberry and elderberry. Additionally, slight vegetal notes such as celery and
tomato can be tasted, rounded by the flavors of caramel and rum.
The taste of acerola puree can be combined in juices, smoothies and shots with
orange, ginger, yuzu, turmeric and calamansi.
Because we love how acerola works in various applications, we already tried a lot
and provide a large range of recipes. →  Get in contact with our developers
Natural vitamin C
Market Potentials
Whenever vitamin C is needed, Acerola is the fruit to go with. No other vitamin added allows more EFSA health claims to be made on the packaging.
The global trend of "clean label" clearly displays that consumers are increasingly looking for more healthy products that are produced with environmental responsibility. Since acerola is a substitute for ascorbic acid E300, the need for "E-numbers" on the label is obsolete.
Read more about Acerola in our blog.
Origin and Producer
Acerola is a shrub native to Central America and can be cultivated in the tropics and subtropics of the world. Nowadays, it mainly grows in Brazil and our partner Duas Rodas is one of the world's leading manufacturers of acerola powder with standardized vitamin C content. Their modern production plant is located directly in the crop region. This has the advantage of preserving the natural benefits due to short transports and immediate processing. Additionally, long-term local partnerships supply Duas Rodas with raw materials and the company educates farmers in growing acerola and most importantly, offers a fair price for the fruits.
Another product coming from this partner is Guaraná; these two products are a promising combination for food supplements (e.g. "Berocca Boost").