Acerola
–
Malpighia emarginata
Natural vitamin C from Brazil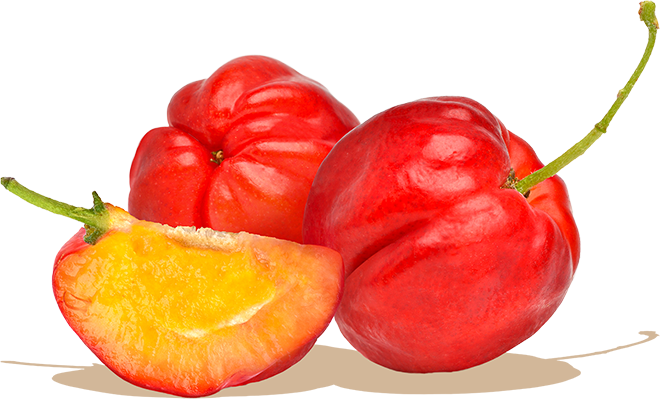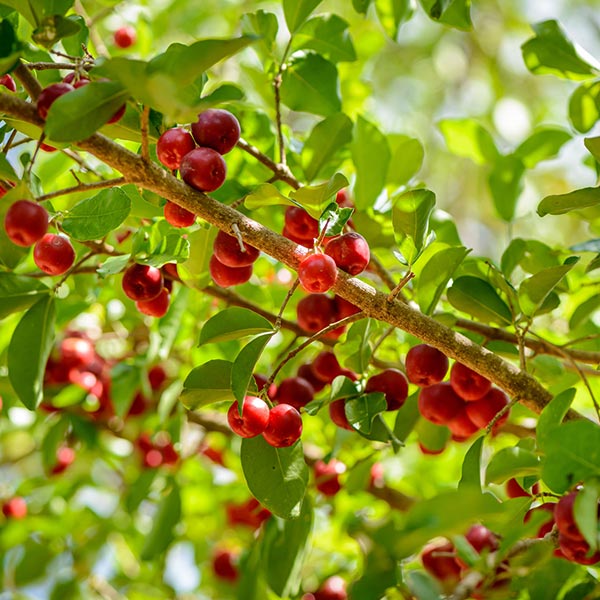 The acerola berry stands out because of its natural high concentration of vitamin C. It can replace synthetic Ascorbic Acid (E300). As a result, acerola allows Clean Label products.
Our offer: Powder* | Organic powder* | NFC puree | Organic NFC puree | HPP puree | Juice concentrate | Organic juice concentrate | Flakes | Organic flakes | IQF
*with 17, 25, and 32% of natural vitamin C concentration
Function Description
The acerola powder has one of the highest concentrations of natural vitamin C among fruits. It is mostly used to replace synthetic vitamin C (Ascorbic Acid E300), being better absorbed by the body, and allowing Clean Label. As a natural antioxidant, acerola (also known as barbados cherry) can enhance fermentation processes, improve baking abilities, act as a colour stabilizer, and increase products' shelf life. In the body, the superfruit is an immunity booster, being able to improve defence functions and stimulate the immune system.
Sensory Description
Texture: juicy, pulpy
Colour: orange
sweet

sour

bitter

salty

umami

sharp

astrigent

cooling
The acerola puree has an intense orange colour. It has a complex aroma of dried apricot, white currant, dark raspberry, and elderberry. Further, acerola has vegetal nuances of celery, and notes of caramel and rum. These leaves a great aftertaste on the palate. It is slightly sweet and unobtrusive sour.
The acerola taste can be well combined with sweet fruits such as mangosteen, mango, apple, and berries.
Natural vitamin C
Market Potentials
The sustainability and natural products trends are changing the consumer's behaviour. They are looking for healthy products made with environmental responsibility. Since acerola is a E300 substitute, it erases the need for "E-numbers" labels and allows Clean Labelling. Due to acerola's high concentration of vitamin C, less raw material is needed to get a good amount of the substance.
Origin and Producer
The Brazilian producer Duas Rodas is one of the world's leading manufacturers of acerola products with standardized vitamin C content. Their modern acerola production plant is located directly in the crop region. For this reason, the fruit is not transported long ways after harvesting. It is processed immediately, so its natural benefits are preserved. Long-term local partnerships source Duas Rodas with raw materials. The company educates farmers in growing acerola and offers a fair price for the fruits.