Goji
–
Lycium barbarium
Powerpack from faraway China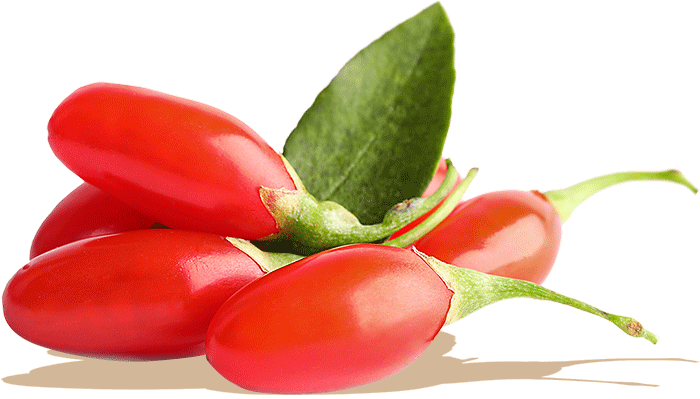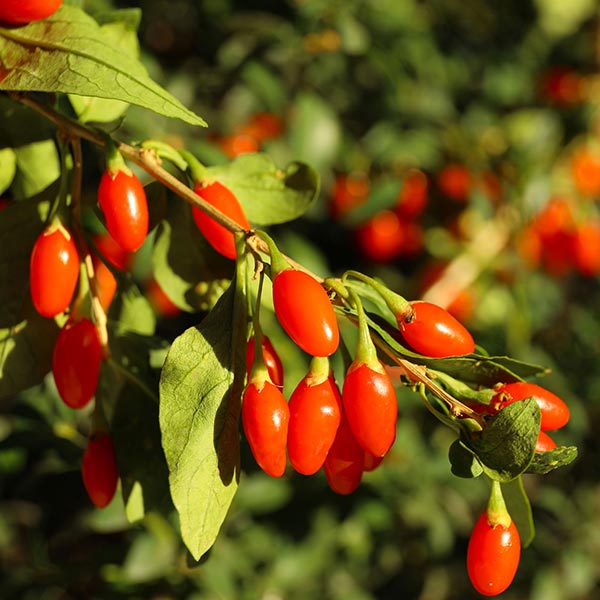 Goji, a healing fruit known in Traditional Chinese Medicine (TCM), has made its way from Asia to America and Europe as a "superfood". This is not surprising due to its nutrient composition. Many different important primary and secondary plant substances can be found in goji berries.
Our Offer:
Juice concentrate

NFC juice

Dried berries

IQF

Powder
Product also available in organic quality
Function Description
Due to its many positive properties, the goji has also received the nickname "lucky berry". It is said to have a blood-thinning effect and to support the immune system.
It has a significant iron content and can therefore help specially women to cover their higher requirements for this element. The combination with the vitamin C contained in the fruit also improves the absorption of iron.
The bright red-orange colour already suggests that the carotenoid content is very high. Not only beta-carotene in the form of vitamin A, but also lutein and especially zeaxanthin are found in significant quantities in the goji berry. These are retinal pigments that protect the retina and are particularly important for maintaining vision.
Sensory Description
Texture: creamy
Colour: orange, copper
sweet

sour

bitter

salty

umami

sharp

astringent

cooling
Our goji puree has a creamy consistency and an intense orange-red colour. It tastes mainly sweet, as well as slightly salty and umami. This spiciness is intensified due to the nutty and distinctly vegetal flavours, such as tomato. Warm notes of baked bread paired with sweet honey notes round out the flavour profile. The finish is long-lasting and also sweet.
Superfruit
Market Potentials
Good news travels fast, so goji is known for its positive effect on our body. As a so-called "superfood", the berry plays a possible role wherever health benefits are in the foreground. Examples of applications for the goji puree are fruit preparations as yoghurt and related products, smoothies, juices, jams, and desserts.
The goji dried powder is suitable for use in shakes and food supplements, while goji dried berries are very popular as a snack, in porridge or cereal bars.
Other "superfoods" from our portfolio that are also suitable for combination with goji are, for example, acerola or guarana.
Origin and Producer
Goji berries are egg-shaped and just 1-2 cm long. They grow on bushes and belong to the nightshade family, like tomatoes and peppers.
We get our quality from China, more precisely from Ningxia. There, grows the best quality. For this reason, our goji puree tastes not tart, but fruity-sweet. We pay special attention to a good relationship with the local farmers and the renunciation of pesticides. Because of these good relations, we can now also offer organic qualities.
We added goji to our catalogue over 10 years ago. Since then, we have been in close contact with our supplier to ensure that European quality standards and regulations are still being followed. For example:
Regulation (EC) No 396/2005: maximum residue levels of pesticides in or on food and feed of plant and animal origin
Regulation (EC) No 178/2002: laying down the general principles and requirements of food law
Regulation (EC) No 2018/848 on organic production and labelling of organic products