Yuzu
–
Citrus junos siebold ex tanaka
Exquisite citrus aroma from South Korea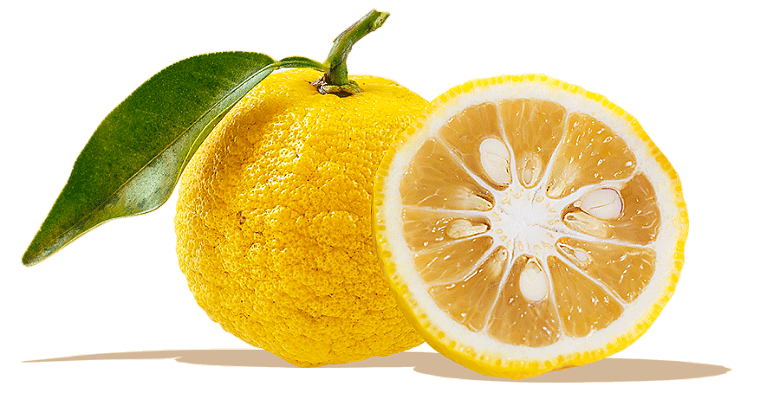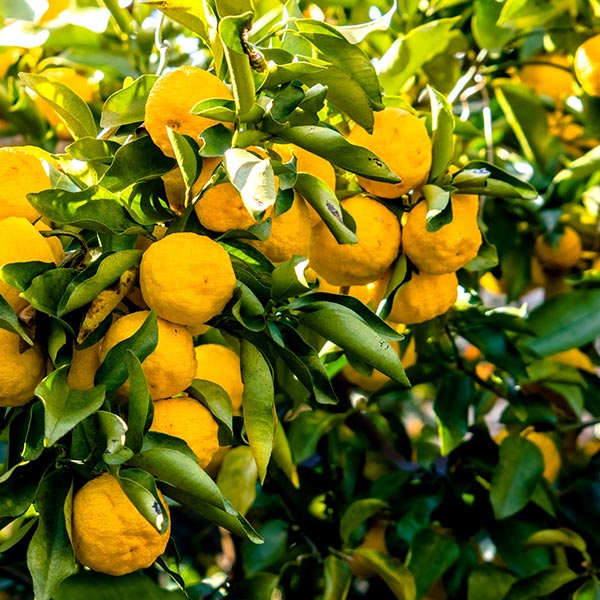 Due to its unique aroma, yuzu is on the lips of all gourmets, and currently is an indispensable ingredient in fine dining. Connoisseurs know why: the intense, complex sensory profile lends a special touch.
Our Offer:
NFC juice

Juice unpasteurised

Peel powder

Peel

Candied peel

IQF peel

Peel stripes

Candied peel dices
Product also available in organic quality
Function Description
Yuzu originally comes from China, from the Yangtze basin, but has gathered great popularity for centuries, especially in Japan. The botanical name "Citrus x Junos" gives an idea of what we can expect in the aromatic sense. Yuzu is a cross between tangerine and another citrus fruit native to Asia. Like all representatives of this species, it shines with a high content of antioxidants, such as vitamin C, as well as vitamin A, flavonoids and other important nutrients.
Due to its intense aroma, especially the oils from the peel are used extensively in the perfume industry and are among the most expensive raw materials used by flavourists. In Asian cuisine, yuzu adds a special note to both savoury pastes and sweet desserts.
Sensory Description
Texture: juicy
Colour: milky, light yellow, green reflections
sweet

sour

bitter

salty

umami

sharp

astringent

cooling
What makes yuzu special is its extremely delicate aroma, which has made it a star in fine gastronomy. The light yellow cloudy yuzu juice tastes very sour, somewhat bitter and slightly salty. For this reason, it makes an excellent addition to marinades and sauces, such as ponzu.
The aroma from the yuzu peel itself is best described as a blend of tart, intense grapefruit, sweet-spicy tangerine and fresh lemon. Likewise, we find vegetative, ethereal notes of eucalyptus.
Yuzu goes perfectly with other citrus juices, such as orange juice, giving it a delicate upgrade.
Have we aroused your interest in Asian citrus fruits? Why don't you get to know our Calamansi, which originates from Vietnam?
Citric taste explosion
Market Potentials
Due to the intense aroma, just a few drops of yuzu are sufficient to take any application to the next sensory and exciting level. Especially in the beverage sector, there are numerous opportunities. Yuzu is one of the fastest growing flavours in Europe in the past three years.
Wherever citrus fruits are used, the addition of yuzu juice can create a special, complex flavour. For example, juices, lemonades, soft drinks such as tonic water, or even syrups. As a component in gin, we recommend the use of dried yuzu peel.
In star gastronomy, the wonderful citrus notes are used especially in the area of desserts; try out unusual ice cream and pastry variations. Or let yourself be inspired by the Japanese and try to use yuzu peel in fruit preparations – you will be thrilled by the aromatic variety.
The tropextrakt team has already developed a number of recipes with yuzu and will be happy to advise you.
Origin and Producer
Yuzu is found throughout the Asian region, but is mainly grown in Japan and South Korea.
The exclusivity and high price are not only explained by the aroma; the cultivation and yield conditions are also challenging. The densely growing shrub bears only a few fruits, and it takes at least 12 years before the first can be harvested. Only 10-12 ml of juice can be extracted from one fruit, and harvesting takes place exclusively in November and December.
After years of searching, we have found a trustworthy producer with whom we have a very good relationship. We are the first European company to exclusively offer Yuzu juice to the industry. We pay special attention to pesticide analysis and aroma intensity of our goods.