Jackfruit
–
Artocarpus heterophyllus
Big, bigger, jackfruit!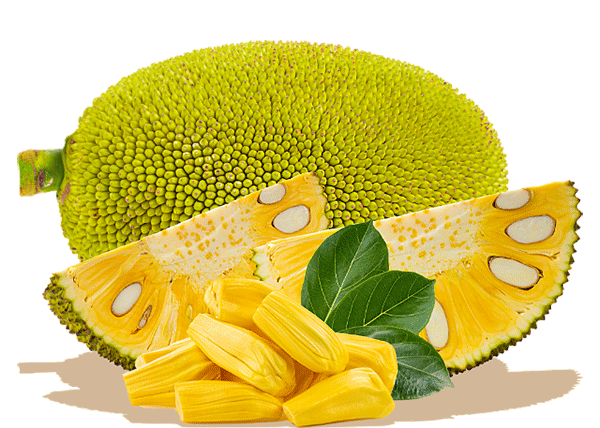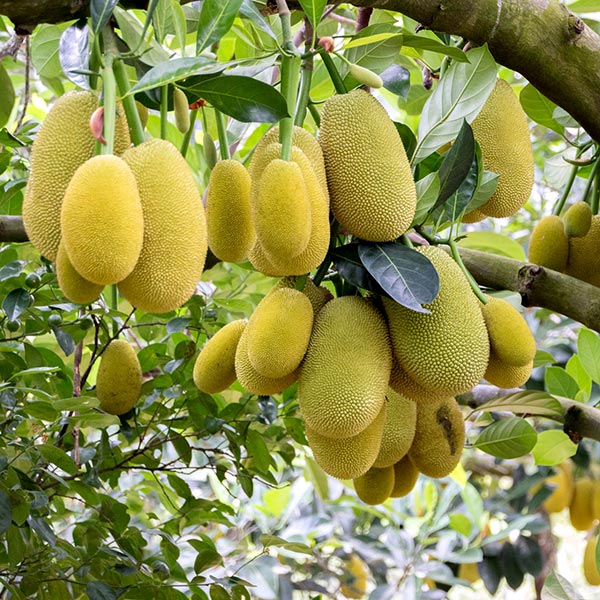 The jackfruit is the largest tree fruit in the world and can weigh more than 50 kg.  The Thais eat it either ripe and sweet, or unripe as a meat substitute. This type of preparation is also growing in popularity.
Our Offer:
NFC puree

IQF

Dices & Pieces

Liquid extract

Powder extract
Function Description
Jackfruit contains a comparatively high amount of dietary fibre. When unripe, the fibrous structure is reminiscent of poultry meat, making it a popular ingredient in vegetarian diets. Because of this property, it is also very suitable for use as a natural thickener.
Sensory Description
Texture: juicy, pulpy, creamy
Colour: golden yellow, orange, green reflections
sweet

sour

bitter

salty

umami

sharp

astringent

cooling
The sweet and sour flesh is intense yellow-orange, and the jackfruit puree reminds us of mango and papaya with its creamy consistency. It tastes very exotic and has notes of ripe bananas, peaches and honey. We also perceive aromas of yoghurt. On the palate, sweetness and exoticism predominate, peppered with vegetative notes.
Unripe jackfruit pieces are clearly lighter in colour and taste neutral. They remind us a little of very mild artichokes and are therefore very suitable for industrial processing without giving off a distinct flavour of their own.
Vegan texture
Market Potentials
The sweet, aromatic jackfruit puree can – like many other fruit purees from our portfolio – be used to make drinks, desserts and fruit preparations. Give your preparation that special something with the addition of jackfruit puree.
At the same time, you can give free rein to your creativity when it comes to the unripe jackfruit pieces. Not only in the organic supermarkets, one find more and more curries and preserves containing jackfruit. We are happy to support you in implementing new ways to make this raw material more popular as a meat substitute.
Origin and Producer
Originally from southern India, jackfruit is now grown throughout the tropics. Our qualities grow in Vietnam and Indonesia. The harvest of the huge and heavy fruits takes place after approx. 6 months of ripening and is done by hand.
We can offer you the ripe, sweet flesh or import the unripe pieces. Please contact us for your individual offer.