Cocoa
–
Theobroma cacao
Dual tastes from the Tropics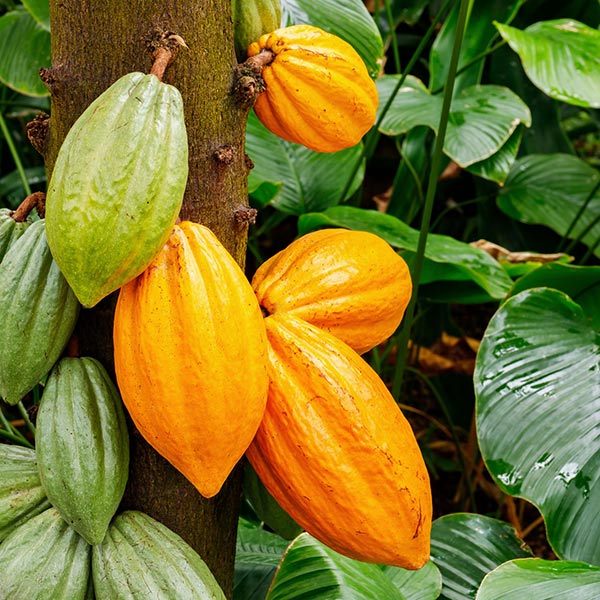 Each part of cocoa has its own job – Cocoa juice is sweet and a natural sugar replacer, while cocoa beans carry the bitter chocolate taste.
Our Offer:
Cocoa liquid extract

Cocoa powder extract

Cocoa powder

Cocoa Fruit NFC puree

Cocoa Fruit powder
Function Description
Sugar can drain critical vitamins and minerals from the body, leading to crave for sweets. Cocoa juice is a natural sugar replacer since it is a powerful source of chromium, a mineral that is believed to reduce sugar cravings and improve insulin function. As an artificial sugar replacer, cocoa allows products to have Clean Label. Further, the fruition has a high zinc content, being able to assist in an effective metabolization of sugar and carbs.
Sensory Description
Cocoa nibs have a bitter and earthy flavour, while the cocoa pulp has a light and bitter-sweet taste. The texture of the fruit is crunchy like coffee beans.
Base for chocolate
Market Potentials
The "mood food" is a new trend about products that can change people's mood, like chocolate. However, healthier options with functional actions, such as cocoa, can here find a good market opportunity. Products with cocoa beans can have the desired chocolate taste while cocoa pulp acts as a natural sweetener, allowing Clean Labelling.
Origin and Producer
One cocoa tree produces about 20-25 fruits, which grow directly from the trunk. To separate the pulp from the seeds, the fruits are fermented. Cocoa trees grow in a limited geographical zone around the Equator line. Originally from the rainy Amazonian region, in South America, today nearly 70% of the world crop is grown in West Africa.