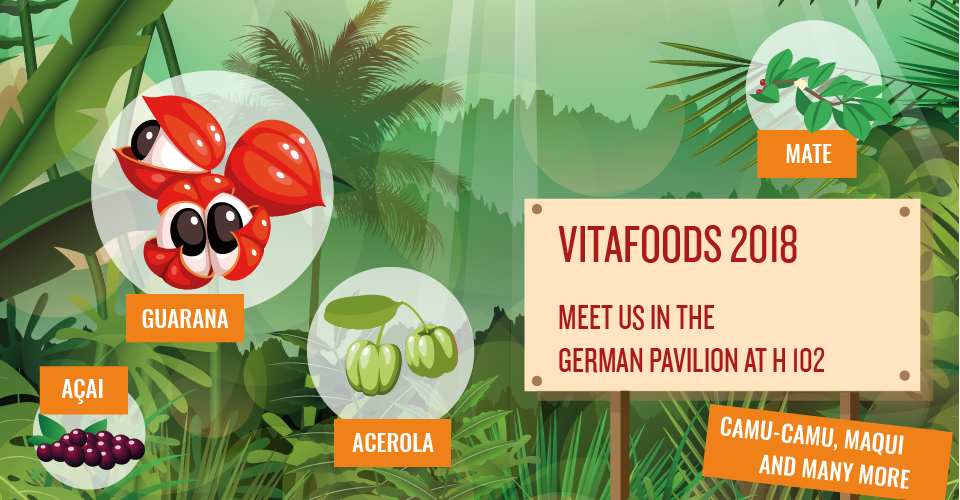 TPX News: Duas Rodas and tropextrakt present fruition botanicals at Vitafoods 2018
Guarana Extract, Mate, Acerola, Açaí, Camu-camu and Maqui berry powder: Duas Rodas and tropextrakt present Fruition Botanicals, a line of natural products from Latin American countries
Frankfurt, 16 March 2018. Transparency, naturalness, the ability to trust – customer's preferences on all areas of nutrition are clearly proved by various latest market reports. At the same time the demand for effects such as activation, rejuvenation, balanced nutrition expands and keeps on differentiating. The good news is that premium natural products are able to cover both dimensions of market demand. Duas Rodas' new product line Fruition Botanicals offers plant essences of finest quality and opens up this way a whole natural world of health and nutrition effects.
Guarana extract, Acerola, Açai  Mate as well as Camu-camu and Maqui berry powder: These are the names of the main actors of this year's presentation of tropextrakt and Duas Rodas at Vitafoods 2018. With Fruition Botanicals, Duas Rodas offers different versions of natural speciality products of the typical fruits and plants of Latin America. tropextrakt represents Duas Rodas in selected European countries and adds further value by services tailored to the nutraceutical industry. With its own application laboratory and additional know-how entities, tropextrakt is able to support clients by a variety of service areas such as the development of beverages or adjustment of products to other nutrition applications.
Spot on the presented products
Guarana is native to Brazil, grown in the Amazonas and Northeast regions of the country. Duas Rodas is the largest independent producer of guarana extracts in Brazil, with broad production and analytical capacity, offering extracts of guarana with different standardization of assets. The Amazonian Maués Indians considered this plant as "sacred fruit" and used the seed during combats and battles to increase strength and vitality.
The Acerola cherry, known for its high vitamin C content (from 1,000 to 4,000 mg for every 100g of fruit), far greater than the orange, is one of the driving forces of the Fruition Botanicals line. The products are developed in different versions with varying levels of natural vitamin C, which range from 17% to 25% of natural ascorbic acid.
Açai, a fruit found in the Amazon, is globally recognized as a superfruit or superfood for having several benefits. Scientific studies haven proven the differentiated nutritional characteristics of the Açai pulp and the synergy between its components, mainly polyphenols, fibres, and monounsaturated and polyunsaturated fats, which are the key factors for the recognition of the health effects of this fruit.
Mate, supplied in the form of Green and Roasted Mate, is native to the subtropical regions of South America. It is a very common plant in southern Brazil, Argentina, Paraguay, and Uruguay, well known for its energy effect. By stimulation of the central nervous system, it decreases tiredness and fatigue. Furthermore, it reduces appetite and improves weight control and fat burning.
Appreciated by the Mapuche Indians long before the Spanish colonization in Chile, the Maqui berry, found in the Argentinian and Chilean Andes region, has an astringent taste that is both slightly fruity and acidic. Aside from its unique flavour, this superfood also has functional anti-ageing properties, as well as oxidative stress biomarkers and potent antioxidants.
Another distinguished fruit of the Fruition Botanicals line is the Amazon-native Camu-camu, which has a great mix of functionalities such as antioxidant, energetic effect, weight loss properties, and metabolism acceleration.
Asserting premium quality: tropextrakt and Duas Rodas
The two partner firms act with a background of more than 9 decades of experience: The Brazilian Duas Rodas, founded in 1925 by German expatriates, a married couple of pharmacists, became the Latin American pioneer of extracting essential oils. Continuous research & development and investment in all relevant stages of the production make today's Duas Rodas an international expert and specialist for fine calibration of premium nutrition products. Be it the development of customized products, the need to prove degrees of purity or "just" the demand for the highest possible reliability: Duas Rodas will be a great expert to speak to.
At Duas Rodas, a team of specialized multidisciplinary professionals is involved in every step of the process, from carefully choosing the raw materials with the suppliers and research and development of the ingredients to the manufacturing of the products that compose the Fruition Botanicals line, which are offered in dehydrated powder or flake, liquid and powdered extracts and flavours. "Our specialists rigorously analyse factors such as availability of raw materials, the best time to buy, quality of products and market supply stability in order to, with the application of the correct technologies, get the best attributes of nature and deliver to our customers the finest ingredients. All that is done to assure the best ingredients are readily available to our clients", says Rosemeri Francener, Director of International Business at Duas Rodas.
Quality, responsibility, and sustainability are the foundation of this Brazilian multinational that has environmental management systems in place to assure the quality and safety of our products, reinforced by worldly renowned certifications such as FSSC 22000, SMeta (Sedex Members Ethical Trade Audit), Organic Products, Kosher and Halal.