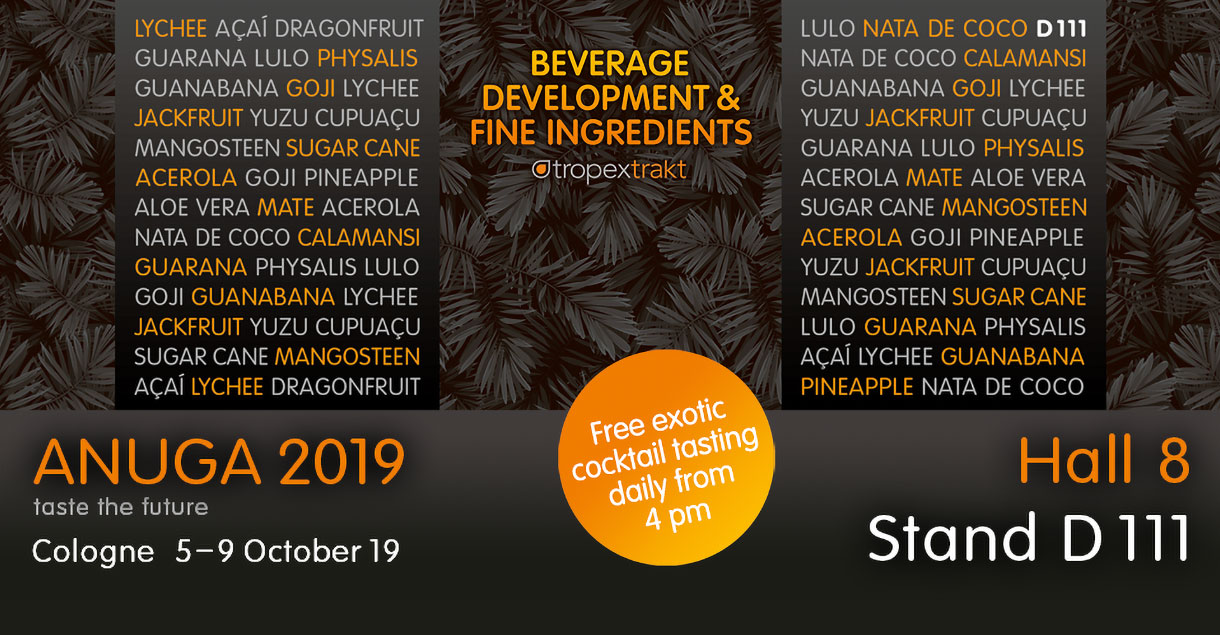 TPX News: tropextrakt presents trends and technical processes at Anuga 2019
Frankfurt, August 19th, 2019 – tropextrakt will be presenting its trends in beverage processing and innovative solutions at Anuga 2019, the world's largest professional trade fair for the food and drink industry. Highlights of this year's exhibition presentation include extracts of mate, guarana, acerola and açai, select juices in HPP quality and pure juices made of exotic, exquisite citrus fruits such as yuzu and calamansi.
Natural extracts trend: key factor in beverage processing
Mate, guarana, acerola and açai are the highlights among the extracts tropextrakt will be presenting this year. They are part of the Fruition Botanicals Line, under which partner company Duas Rodas offers plant essences of the highest quality. The select extracts are known for their high function and added value.
Currently, mate is shaping the trend in beverage processing towards "green energy" as the basis for a new generation of energy drinks.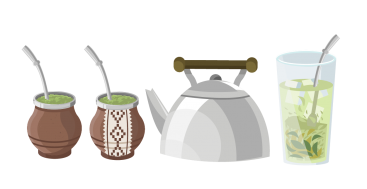 In contrast to artificial or natural caffeine, which is extracted from coffee through intensive processing, mate is a "completely" natural product. Gentle processing means it offers ingredients that improve the body's absorption of the caffeine it contains. Valuable substances such as polyphenols and theobromine also have a positive impact on the body. Mate reduces appetites and boosts fat burning.
Due to its high levels of vitamins and minerals, mate can almost be thought of as a nutritional supplement. The mate sold by tropextrakt contains standardized levels of caffeine, polyphenols and theobromine, allowing it to incorporate the positive effects of these ingredients into its products. Guarana is also known as a natural stimulant with a refreshing effect that is more gentle and lasts longer than that of coffee. Energy drinks, typically thought of as unhealthy and artificial, can be both effective and healthy through the use of such ingredients, in addition to offering a pleasant, natural taste.
The acerola cherry is known for its high vitamin C content of 1,000 to 4,000 mg per 100 g of fruit.
tropextrakt and Duas Rodas offer acerola as a product line with different levels of natural vitamin C – between 17% and 25% of natural ascorbic acid. As a natural source of vitamin C, acerola is used in many different areas of food production, for instance as an additive in fruit juices, in nutritional supplements, or as a refined addition to candies and ice cream. The organic variation of this fruit powder is primarily used in the organic baking industry to improve dough properties.
Açai, a fruit originating from the Amazon region, is considered around the world to be a superfood offering many different nutritional benefits. Scientific studies have proven the different nutritional properties of açai fruit and the synergy between its different components, primarily polyphenols, fibers and mono- and polyunsaturated fats.
Besides providing high function and added value, these ingredients are current trends in the food and beverage processing industries.
Exotic juices in HPP quality,
the seal of quality for pure taste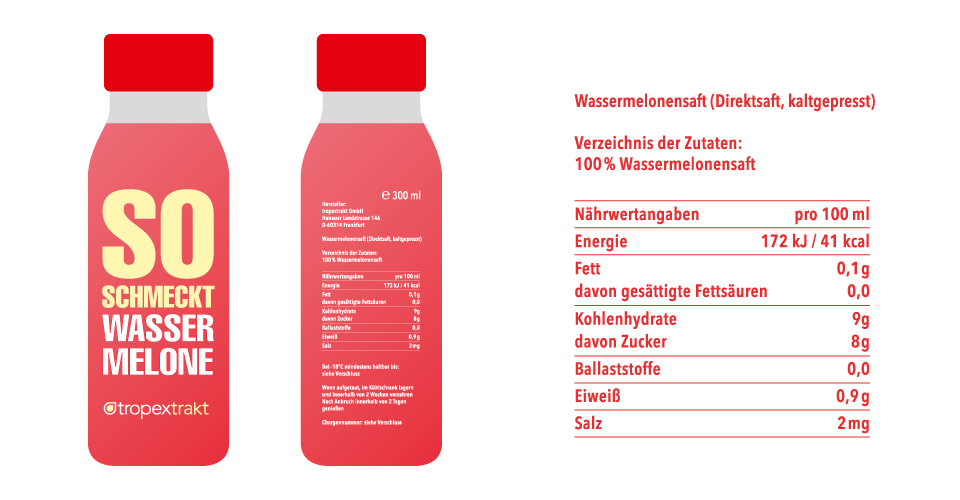 In partnership with Taiwanese manufacturer Chia Meei Food Industrial Corporation, tropextrakt continues to offer its customers select juices in HPP quality. These include watermelon, pineapple, lychee, guanabana (soursop), and our exotic "tropical plus" blend.
In the food industry, there are different ways to make products shelf-stable. One of the most gentle manufacturing processes is high-pressure processing (HPP), which kills germs and bacteria using high pressure levels. The added value of this process is that it not only retains vitamins and minerals, it also preserves the fresh, original taste of the fruits. Black Beauty watermelons are used to produce HPP quality watermelon juice, a highly aromatic variety. The watermelon is the most popular and most well-known melon in Germany. They are fruity, fresh, a true thirst quencher, and popular among kids and adults alike.
Exclusive trends for citrus fruits in beverage processing
Tropical citrus fruits remain on trend, thanks to their unique tastes. They remain highly popular on the European market.
The juice of the Asian citrus fruit, the yuzu, is a sumptuous delicacy. It has such an incomparable, intense and diverse flavor that just a few drops are enough to add a highly aromatic, sour, bitter and spicy note and flowery aroma to any food or drink. Its complex citrus aroma is slightly bitter, like a grapefruit, and yet sweet like a mandarin orange. It is a great choice for producing fruity-fresh ice creams or creamy fruit yogurt, and for making outstanding, refreshing drinks or adding to cocktails or smoothies. The yuzu also gives first-class fruit juices and invigorating shakes an unmistakable flavor, and can be added to candies, marmalades or baked goods.
The calamansi is one of the most exciting new discoveries tropextrakt has made for its customers. It is a very small citrus fruit, the cross between a mandarin orange and oval kumquat. The unique aroma of the calamansi is perfect for exotic taste experiences, and pairs perfectly with familiar ingredients like oranges, apples, yellow plums, currants, and herbs and spices such as cinnamon, peppermint or vanilla. tropextrakt has already tested these and other combinations in its own laboratory, where the company develops specialized applications for food and drink industry customers on request.
Anuga 2019: the place to know the trends in beverage processing and exotic fruits
From 4 p.m. on both days of the trade fair, tropextrakt will be inviting interested visitors to also taste its exotic recipes in the form of cocktails.
tropextrakt at Anuga 2019 in Cologne
October 5 – 9, 2019
Hall 8, Stand D111
Impressions from tropextrakt exhibiting at PLMA 2019
About our Partners
Duas Rodas
Brazilian company Duas Rodas, founded in 1925 by German ex-patriots (a married couple – both pharmacists), quickly became a pioneer in Latin America in essential oil extraction. Ongoing research and development and investment in all relevant phases of production has made Duas Rodas today an international expert and specialist in finely developed premium nutritional products. Whether developing customer-specific products, verifying purity, or "just" ensuring the best possible reliability: Duas Rodas is a leading global expert.
Chia Meei Food Industrial Corporation
The Taiwanese company was founded in 1968 and specializes in the production of raw food materials made from fruits and vegetables Its product portfolio includes fresh juices, vegetable and juice purees, concentrates, cubes (such as aloe vera and nata de coco), drinks with a high fiber content and convenience and frozen products. Chia Meei is considered a leading Asian manufacturer, and delivers its products in many different ways to meet different specifications. The company is FSSC22000, Kosher and Halal certified, and produces its products at four locations, two of them in China, one in Vietnam and one at its headquarters in Taichung, Taiwan.